The History of Woodie


Well friends, this is a story that I have told 1000 times and would love to share with all of you!

Back around Christmas of 2002, there was talk on Diecast Illustrated about a box that was traveling around the Country. This box had cars in it. All you had to do was sign up to have the box sent you. Then when you got the box, take out any cars that you wanted and replace them with something of equal or greater value and send it to the next person. This was a great thing.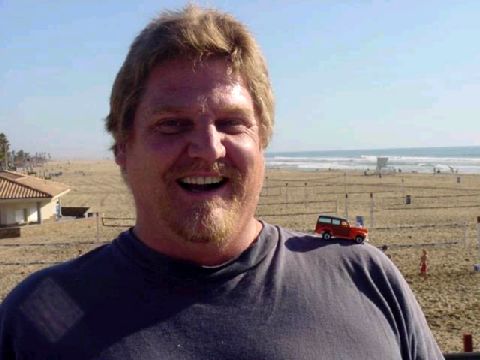 So I started asking around. If I took a single car out of the package and photographed it, would someone else take pictures of this car somewhere else? In another state maybe? Or what about another Country? Wow, the possibilities could be endless! But let's just start with all 50 states.

So now it was time to choose the car. It eventually came down to two choices. Both of them were HiRaker Hot Wheels from 1979. One was a 40's Woodie and the other was a USPS Postal Truck. So after taking a vote on Diecast Illustrated, the Postal Truck was eliminated and the World Wide Woodie Adventure was born. So on 12-29-02, I decided to take Woodie out of his packaging and let him embark on the adventure of a lifetime.

There was a contest going on right about that time on HWC (HotWheelsCollectors.com), were you were asked to take a picture of a Hot Wheels car. That picture had to represent were you lived. And somehow tie in to Hot Wheels. So I took Woodie down to Huntington Beach California and snapped the first photo on the sand. Hey, that was a lot of fun. What can I do with it now? How about New Years Eve?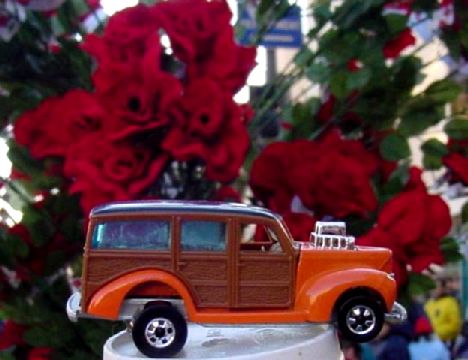 My wife Katie and decided to take Woodie to the Rose Parade on New Years Day. Man, people can give you funny looks when you are photographing a Hot Wheels car instead of the floats! I think I got some really great shots though. But let's let the adventure continue. Let's go to Hollywood. I would love to have pictures of the Hollywood sign. Or a picture at Grauman's Chinese Theater? Or what about the Walk of Fame? This is actually a lot of fun! Later that evening, I posted the photos on-line and got a pretty good response.

The next person to ask to photograph Woodie was Diane Strauss of Hot Wheels Newsletter. Diane took the Woodie to San Francisco with her and Mike for the weekend. They took some great shots of the Golden Gate Bridge and some of San Francisco's more famous streets. Thanks Diane. From there the car was sent to Oregon, then Lake Havasu Arizona, then back to California where Woodie was photographed on a UH-60 Blackhawk. You know, there just might be something here. I wonder where we can send Woodie next? Well, the answer is, "EVERYWHERE"!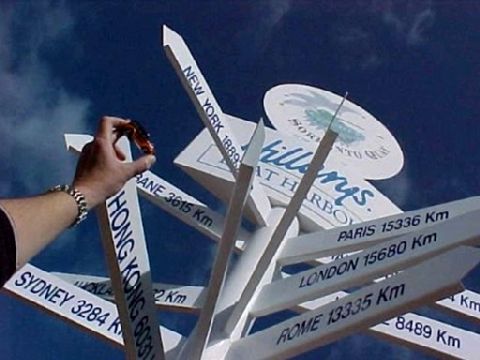 Woodie has been successfully photographed since the day he started his adventure and is showing no sign of slowing down. Woodie has traveled from British Columbia to Newfoundland in Canada, traveled to ALL 50 United States including Puerto Rico and has been to 6 of the 7 Continents (missing only Antarctica). I figured that it was only right to start a web site honoring the little guy. So people could either look at the photos that they took, or pictures that others have taken, whenever they wanted to. So far there have been over 1000 photographs taken of Woodie and I hope over time to have 1000 more.

Thank you for your interest in my site and celebrating the "adventure" of this little Woodie. A little car that will go places that I will never see. I guess I get to live vicariously through my little buddy and I am enjoying every minute of it! Please feel free to email me anytime at oggiedoggie@socal.rr.com

Thank you again and please enjoy what so many people have created -- Woodie's Worldwide Adventure!